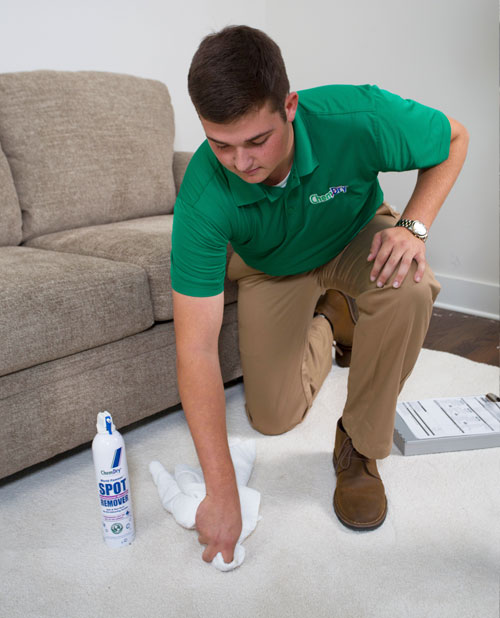 Specialty Stain Removal for Carpet Stains
Get rid of seemingly permanent carpet stains with Chem-Dry Select. Spots you thought were there to stay can finally be eliminated with our specialty stain removal!
Beyond providing industry-leading cleaning solutions for carpets, upholstery and area rugs, our professionally trained Arlington technicians are fully equipped to handle even the most stubborn carpet stains.
Chem-Dry professional technicians can remove most any stain. Armed with an arsenal of the industry's finest stain-removal products and tools, Chem-Dry can remove, or minimize all types of stains.
Your best chance for removing a stain is as quickly as possible after the spot is made. The longer a spot sits on the carpet or upholstery, the harder it becomes to remove. While most stains can be removed, some require advanced technical skill and expert cleaning solutions. Chem-Dry leads the industry in products and solutions, helping you win the battle against tough stains.
Chem-Dry technicians are willing to try and remove any stain. We have had success removing spots such as: berries, soda, juice, blood, candy, nail polish, coffee, honey, Kool-Aid, jelly, mud, lipstick, Ketchup, marker, rust, throw-up, urine, wine and many others. Each stain is somewhat unique, but our staff is expertly armed to battle even the toughest stains.
"If we can't get it out. No one can." Your Chem-Dry professional is prepared with tools to remove virtually any stain. Our technician will prepare an on-site evaluation for any stains and provide a no-obligation estimate.
Be it wine, coffee, glues, ink, red dyes or other seemingly permanent damage, you can trust Chem-Dry Select to remove those carpet stains. Call today to learn more about what we can do for you!
Specialty Stain Removal
★★★★★
Rated
5
/5 based on
14
customer reviews
Our Specialty Stain Removal process has shown success in removing ink, lipstick, coffee, red dye, berries, blood, mud and many other stubborn stains!
Customer Reviews
Provided The Best Treatment.
by
Alisa Hendricks
,
&nbsp June 03, 2018
★★★★★
5
/
5
stars
"Wow!! You will be so pleased to have Chem-Dry Service your carpet needs. Great customer service!!! (Thank you Michelle). Carpet technician was very thorough and provided the best treatment to help our carpets look and smell like brand new. (Thank you Matt). We needed service asap and Chem dry was out the same day to provide service. So Thankful!! I definitely recommend Chem-Dry to anyone who is in need of high-quality carpet care."
I Will Continue To Use Them in The Future.
- by
Gina Calleja
,
&nbsp August 24, 2017
★★★★★
5
/
5
stars
"I was a bit nervous at the beginning but Michelle was very friendly over the phone and gave me confidence in the service. She schedule the carpet clean, and called me a day ahead to confirm the appointment. Then, Josh texted me that he was on his way and gave me an arrival time, and showed up right on time. He took the time to explain the services they offer after inspecting the carpet, and allowed me to decide what I wanted. He was also very clear in how some stains might not come out all the way because of the nature of them (blue jean dye). I am very pleased with the service and results, I will continue to use them in the future."