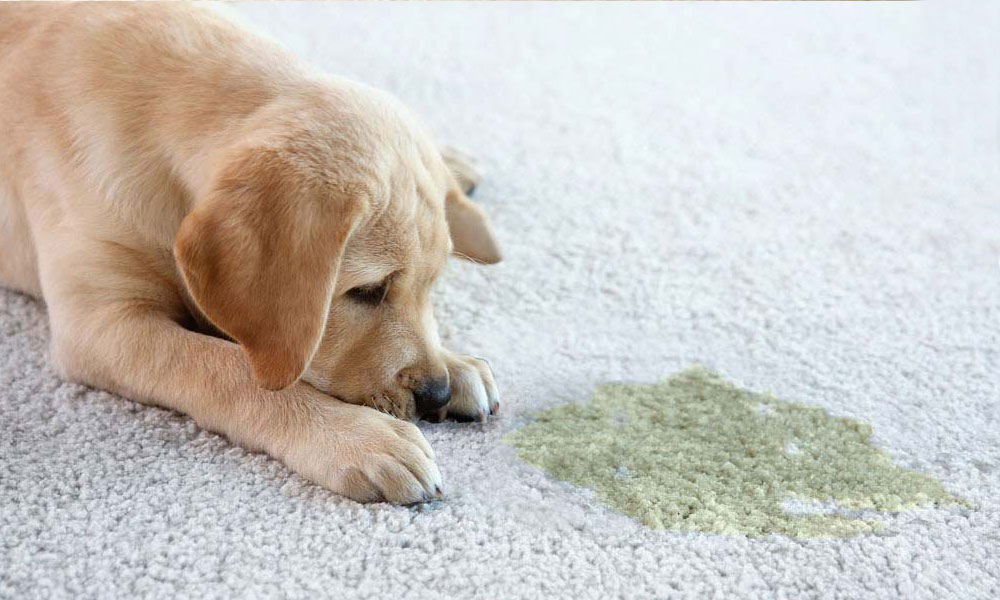 Pet Urine and Odor Removal
Animals are awesome, and pets are close to perfect, but even our furry friends make mistakes! Chances are, as a pet owner, you've had to soak up a pet accident or two. Chem-Dry Select is pleased to announce our revolutionary Pet Urine Removal Treatment (P.U.R.T) formula. P.U.R.T. doesn't just mask the smell with perfumes like other products and services. Instead, we eliminate the odor at the source by going beneath the surface and exploding pungent urine crystals. This process destroys urine smells and stains once and for all.
Schedule your free in-home inspection today!
About Our Pet Carpet Cleaning and Odor Removal Service
Our revolutionary pet carpet cleaning process is called Pet Urine Removal Treatment (P.U.R.T.®). It attacks odors at their source - deep in carpet fibers. Other methods can't do this and typically only mask odors with perfumes. P.U.R.T. causes a chemical reaction that destroys the urine crystals and eliminates the odors for good.
Proven Cleaning for Pet Stains and Urine Odors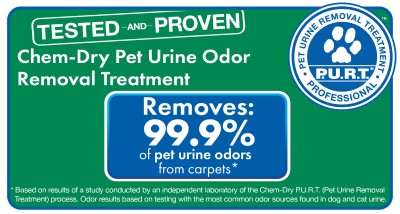 An independent laboratory conducted multiple tests of our Pet Urine Removal Treatment to determine its impact on pet urine odors.
In tests against the most common odor sources found in cat and dog urine, the study determined that P.U.R.T. removes an average of 99.9% of pet urine odors from carpets*.
These results definitively show that our P.U.R.T. process is much more efficient than store-bought cleaners and processes used by other pet carpet cleaning services.
Eliminate Pet Urine Odors
Dealing with pet accidents that you see is difficult, but what about those you may not be aware of until the smell hits? Our trained technicians use a special UV light to detect all pet urine accidents in your house, even those you might not have noticed.
If not treated properly when they happen, pet urine can soak your carpet fibers, backing, padding, and even the subfloor. As the urine dries, the liquid will evaporate, but the urine crystals left behind will become even more concentrated and pungent.
Simple cleaning and DIY methods won't be able to remove this odor. The Chem-Dry P.U.R.T. process attacks these odors at the source, causing a chemical reaction that breaks down all of the odor-causing matter in the 24 to 36 hours following application. P.U.R.T. is a pet odor cleaning method you can count on!
Chem-Dry Select offers our P.U.R.T. service to everyone in Arlington and the surrounding areas. Our professionally trained technicians will take care to inspect your home, identify any issues you may have, and provide a free, no-obligation quote before beginning our service.
Contact us today!
Pet Urine and Odor Removal
★★★★★
Rated
5
/5 based on
30
customer reviews
Our pet urine and odor removal process eliminates stains and smells entirely. Instead of only masking them, we destroy them at the source by exploding urine crystals found deep in carpet fibers.
Customer Reviews
Golden Retrievers, Corgi and a Horse Farm With High Traffic.
by
Annika Wolters
,
&nbsp June 03, 2018
★★★★★
5
/
5
stars
"Michelle and the folks at Chem Dry have done my families carpets in Snohomish for years, my Mom Lacinda picked vanilla plus carpet when she has Golden Retrievers, Corgi and a horse farm with high traffic, Chem Dry has had their work cut out for them and have impressed us every time. They show up on time, confirm appointments, listen to my concerns, work within my budget and are highly trustworthy."
Saved Us From Having to Buy New Carpet.
- by
Teresa Fix
,
&nbsp November 23, 2017
★★★★★
5
/
5
stars
"Once again an amazing save! We had a tenant for 5 months over winter and spring with 2 big dogs in a 1500SF, 3BR, 2 story. The smell and the dirt were awful. You can't tell anymore where the dog trails were. Saved us from having to buy new carpet as it was only 4-5 years old. Fortunately there was no urine issue, but they have handled that as well in the past."
Schedule a Free P.U.R.T. Home Inspection Today!
Contact us to schedule a free, in-home inspection for our P.U.R.T. process. We'll conduct a detailed review of your home, provide you with a no-obligation quote and begin the cleaning process at your convenience.